it's boxing day, the crowds are out in full force in search of bargains. after last year's exceptionally deep discounts, shoppers are expecting a repeat. limited transport services on boxing day doesn't deter, just look at the queues outside selfridges, way before starting time of 09:30am.


crowd control in the wee hours of the morning. i always avoid selfridges during sale times. it's prominent and central location makes it a popular stop for bargain hunters. law of economics tells me demand far outstrips supply. i do come out empty handed most times.


truth is, retailers are a lot smarter this year. the deep discounting in 2008 was quite a one off. the economy went into free fall, retailers were left with excess stock which they couldn't foresee and hence the crazy sales, even before christmas. stock buyers were a lot more cautious this year. they bought less stock, and mild discounting started way back in november. several shops, online and offline, offered 10-20% discount during "shoppers' evenings". come first week december, the shops offered 30% discount to entice christmas shoppers.

so with less stock to begin with, and gradual discounting starting from november, there really isn't much left for the half price sales. i predict that retailers' margins will be much healthier this year. not in 2007 levels, but much better than 2008.

with the fall winter 2010 menswear shows coming up in january 2010, i wonder what the buyers will be looking for. the economy should be on a slow but positive recovery. they are looking to buy stock for sale between july to december 2010. i would think they should have a bigger budget than 2009, and would be buying slightly more adventurous pieces. enough of classics, perhaps a return to seeing more exotic skins and materials on the runway. so buying smaller quantities of stock but of higher value.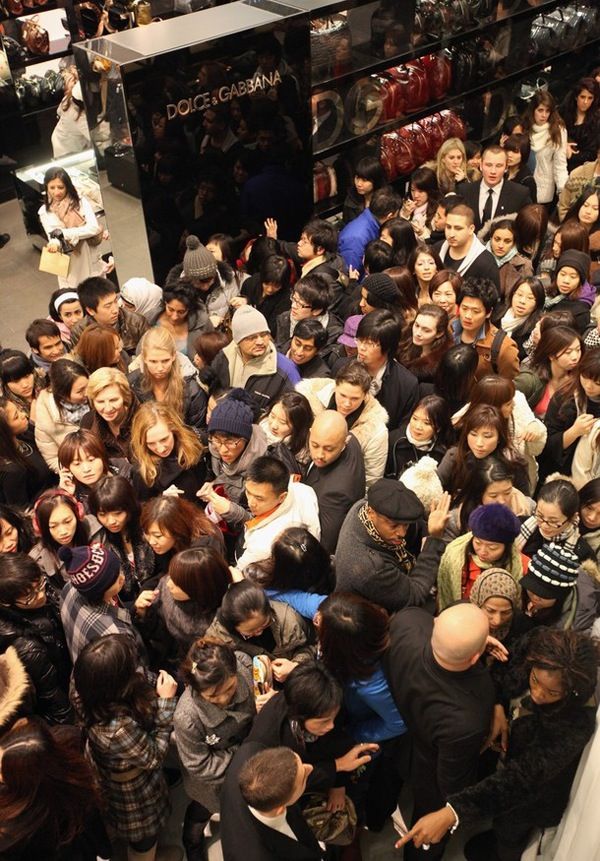 ok back to the sales: this is the scene inside selfridges. i was there around 12pm and i was rather embarrassed. ok i do avoid selfridges every year during boxing day sales, but i was looking for a ysl leather jacket which i tried at sloane street but they don't have it in my size. silly me really to think i can find it at selfridges.

which leads me to think: what luxury is there? everyone loves a bargain, but when you have to jostle and finger point and raise your temper, it takes the fun out of shopping.

i actually left the sales empty handed. rather than feeling dejected, i actually felt really good, that i was able to walk away. shopping isn't one dimensional and just about the end product, it's also about the overall experience.

so did you guys manage to sniff out any bargains this year?