versace spring 2010, milan / pic credit:

getty images
the house of versace announced their financial results on monday, and the picture ain't rosy: total sales for 2009 fell 20% to €268m as compared to 2008. the company posted an overall net loss of €50m as compared to €0.4m loss in 2008. it is heartbreaking to hear, the italian powerhouse can't breakeven, and has been loss making for years.

this isn't a "talk me down" post. rather, this is an ode to versace.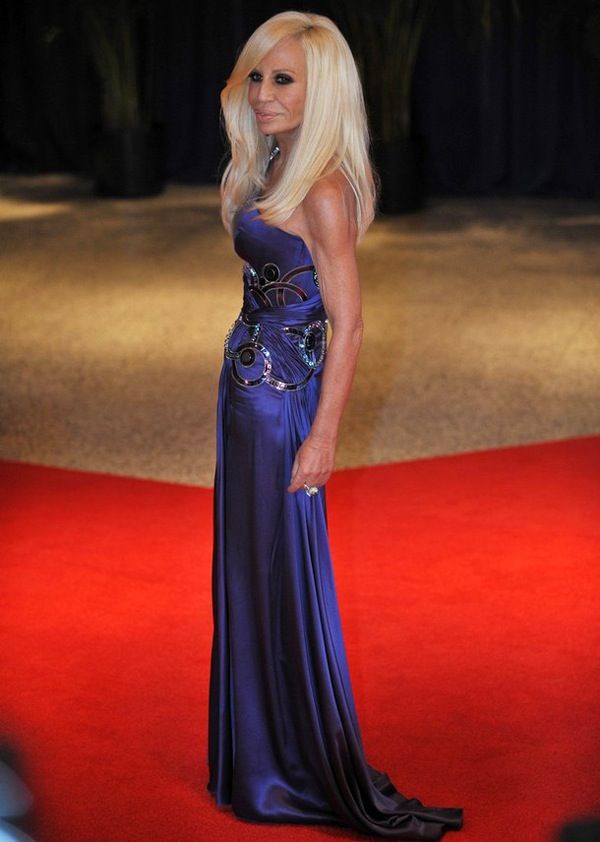 donatella versace, may 2010, washington dc / pic credit:

getty images
if you grew up at a period where every teenager had an insatiable appetite for glossy fashion, you would have followed the stories unfolding at versace: gianni being murdered outside his residence, donatella's addiction, allegra's health. back in the 90s, who can forget the stunning images from their campaigns (amber valleta and the poodle), cindy, naomi, linda and christy walking down the runway in unity. we all love versace, i'm sure we all do. i've never seen an atelier versace dress that failed to wow. oscar worthy dresses are the DNA of the versace dynasty. however spectacular the vision and direction, you need sales to carry on the business.


allegra versace, francesca versace and santo versace / pics credit:

getty images
versace is a privately owned business, shareholders include donatella versace, donatella's daughter and majority shareholder allegra versace, and donatella's brother santo versace. as a privately owned business, not much financial analysis is available to the general public. they cited the economic downturn as the reason for the lacklustre sales in 2009. true to a cetain point: just how many people are willing to fork out thousands of dollars for a knockout dress, which you might only get to wear once.
can you cite a memorable versace fragrance, or a must have
it
bag from versace? accessories are the cash cow of luxury retail, and i really feel there's vast room for improvement. in most cases, catwalk shows are very expensive to produce, and i doubt they really sell many of the pieces featured. but they do it because the long flowy dresses creates a fantasy, a vision. this leaves people wanting a piece of the action, and that translate into sales of lipsticks, perfumes, belts, wallets etc. versace has a strong vision, their womenswear show churn out the most glamorous of looks. they consistently dress the most girls at the oscars.
but they lack attractive entry points for customers wanting a piece of the story.
tom ford "a single man"
when tom ford famously left gucci in 2004, the world watched with bated breathe: is he going to work his magic at the house of versace? will versace finally clean up and move from trashy to dressy? we all know he didn't. it was a time when donatella wasn't at her best, and elton john persuaded her to seek help. we wished ford was the knight in shining armour.
what's amazing about tom ford's movie "a single man", is that it is beautifully executed, and it is also a full length 90mins lookbook/catalogue/commercial for his own label. hands on your heart, you wanted those black framed glasses, you wanted colin firth's wardrobe, you wanted his neatly stacked gorgeous bottles of toiletries in the opening scenes. i know i did, i bought the
black framed "cary" sunglasses
. i wanted so badly, scents from his "private blend" range.
thing is, ford provided the entry level products alongside well cut suits at exorbitant prices. before he even started ready to wear for his label, he did sunglasses, he did scents. and that is why i worship the ground he tread on. his vision is unparalleled. accessories provide the much needed revenue to achieve the bigger things. entry level products doesn't mean cheap: a bottle of ford's "private blend" retails for about £250. pricey for a bottle of perfume, but in money terms £250 buys you a piece of tom ford, his vision and a lingering feeling of "a single man". and that's achievable.
versace menswear spring 2010, milan / pic credit:

getty images
versace's shows are much like ford's movie: they create fantasies, it leaves us wanting for more. but i wonder how many women actually get to capture that essence. fashion loves a come back kid. i do not think i am alone, we are all rooting for the glorious return of the versace dynasty. there are lots of possibilities: the christopher kane designed versus collection is still at infancy stage, their accessories, their point of sales, their choice of spokesperson, their most famous asset: the medusa logo.
so this is an ode to versace. much like a football fan supporting the world cup, i am still rooting for the house of versace to be profitable once more.
+