patrizio bertelli, CEO of prada, with wife miuccia prada.
things took an interesting turn in prada's finances last week. there were reports of a chinese businessman, who
allegedly acquired 13% of prada's shareholdings
over the past two years. prada disputed the reports, saying that the family still owns about 95% of the company, while the remaining 5% by italian bank banca intesa sanpaolo. interestingly, prada then announced a day later, that they agreed terms for a new €360m loan from a consortium of banks, in part to service an old loan while also to finance new store openings.
prada fall winter 2010 /

prada.com
for most years, prada has been profitable. with collections that are loved by critics and consumers (not an easy feat to achieve acclaimed reviews and commercial success), it is not entirely a huge surprise. for the first quarter of 2010,
prada reported sales of €366m
, a 26% increase as compared to the same period in 2009. earnings were up 480% from €11m to €60m. despite the stellar results in recent years, prada's finances have always been a huge woe. in particular the huge debt that they are carrying. back in january, the
debt stood at about €1.3 billion
.
an astonishing amount of debt, for what is largely a privately owned company.
eversince the financial bloodbaths of the investment banks, regulators and investors are not just interested about the sales and profits made (profit and loss statements), but also the resources used to achieve the sales (balance sheets). as prada is a privately owned company, financial data are not widely available. but it was suggested that the company was in debt as far back as 1998, which doesn't really surprise me either since most companies would choose between debt or equity (shares issue), and for a company wishing to stay independent and private, prada chose to take on loans and debts.
reading into the history of prada, i found it interesting that they actually acquired about 9.5% of shares in gucci back in 1998. with gucci being at the centre of a takeover war, prada sold their shareholdings to LVMH for a nice tidy profit. with prada's debts, it was apparent that they were unable to mount a successful takeover of gucci, hence the sale of shares. however gucci resisted the further takeover attempts by LVMH, and sold the majority of their shareholdings to francois pinault, which now forms the crown jewel of the PPR empire.
silvia fendi and karl lagerfeld, fendi spring 2010 /

getty images
the cordial relationship between prada and LVMH post gucci shares sale continued into 1999. together, they
bought 51% shareholdings in italian luxury house fendi
for US$520m. however under pressure from their bankers to pay off the huge debts, in 2001 prada then sold their share in fendi to LVMH.
helmut lang fall winter 1996 / thefashionspot.com
besides the investment in gucci and fendi in the 90s, the more prominent investments from prada were the acquisitions of helmut lang and jil sander in 1999, which saw prada paying about US$100m each for the two companies. the move created a huge outcry, with many accusing lang and sander to be a sell-out to the more commercially driven prada. with the commercial acumen of patrizio bertelli at prada and the creative teams at lang and sander, the new structure should really work. but mergers and acquisitions often doesn't take into account of human emotions. and we all knew lang and sander both walked out of their namesake companies.

it was again reported that under pressure from bankers to finance their loans, bertelli needed a quick turnaround for helmut lang and jil sander, hence the more commercial approach and introduction of logo emblazoned accessories from helmut lang not long after the prada takeover. presumably under pressure to finance their loans, prada then sold their investment in helmut lang to current owners link theory, and jil sander to a private equity firm.

and it is interesting to see prada growing the company through acquisitions in the 90s, whereas other similar private companies the likes of armani and versace developed diffusion lines to grow organically.


left: prada cotton weekender, £475 /

prada.com


right: prada cotton backpack, £340 /

prada.com
the strategy of growing by acquisitions in the 90s seemed to have changed. prada is now concentrating their efforts on growing prada mainline as well as diffusion line miu miu. there were earlier reports that prada needed to raise cash fast in order to service their loans. is that the reason why we are seeing more lower priced and entry-level products, like the printed cotton bags above?


left: prada hemp tote, £320 /
prada.com
right: prada printed nylon "BYOB", £180 /
prada.com
is the need to desperately pay off loans the reason why we are seeing much more lower priced bags from prada mainline. i always maintain my view, that what we see in shops is not really a direct result of what is cutting edge or fashionable, but a byproduct of commercial decisions. of course, prada sold the above bags alongside other expensive and exquisite creations, treading along what miuccia wants (high fashion) and what bertelli needs (erm, cash).

very clever.

prada spring summer 2010 by yang fudong /

prada.com
prada could have concentrated on what they have on their plates at the moment and work towards paying off the huge loan. but they see china as a huge opportunity, a reason why they took on an additional €360m loan last week. this will allow them to finance the opening of new stores in china, which many agreed will be the biggest consumers of luxury products.

i personally think prada will do very well in the chinese market. if i can be crude and honest (that's the difference between blogs and magazines, no?), the first generation of the new found wealth affluent chinese consumers are big on logos and the carrie bradshaw culture: "i want my money where i (and others) can see them." i could be generalising and typecasting, but no offense intended. different cuts, different strokes. prada, with the clever use of their triangular logo on their accessories, and miu miu with their logos etched on almost every of their bags, will certainly do very well in that market.

and prada knew. they collaborated with chinese artist yang fudong on a mini movie/campaign called "first spring" which was shot entirely in china. it is my favourite prada campaign to date, and one that fuses chinese heritage and cultures so well without appearing to be patronising like many of the other fashion houses out there.

we know accessories is the most profitable part of the luxury retail business. penetrating the new market will be vital to them staying afloat. and talking of float, the many talks of prada floating on the stock exchange could be soon. markets are on the up, the successful float of the business would help repay prada's loans and ease the financial pressures. that would mean relinquishing some of their 95% shareholding, but also an exit plan for bertelli and miuccia who are in their 60s.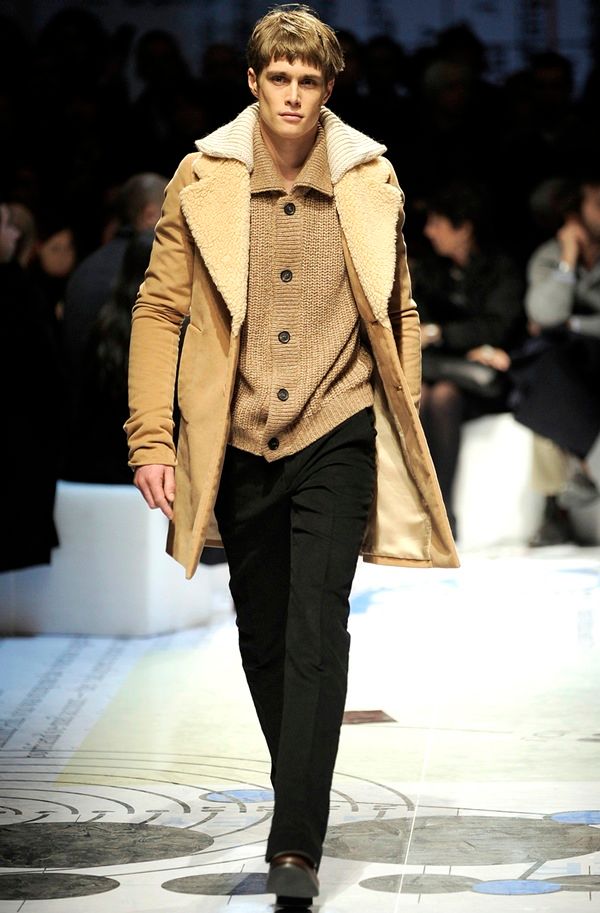 top: prada fall winter 2010 lookbook /

prada.com


bottom: prada menswear fall winter 2010 /

prada.com
so what is my point? none really. i just find it fascinating that prada is in so much debt. profitable with sales but achieved through massive financing and borrowings. perhaps we should really pay more attention to the resources used to generate the sales, at what sacrifice. but who am i to say their business model is flawed. for a family who wanted to keep the company private, control comes at a price.

it was reported that the company could be worth between €3 to €4 billion if it floats on the stock exchange. not bad for a family run business huh? the feeling is perhaps not mutual now, but they will have the last laugh.

and oh, my point is i
really really
like the coat above, which i think is moleskin cotton with wool double layered collars. after all the ditterings above, i decided that will be my winter investment coat this year. the buyer for the london stores better pick that piece or else words will be had. that will be my little effort to help prada pay off the loans. you're welcome, don't mention it.
prada lookbook fall winter 2010 /

prada.com
+