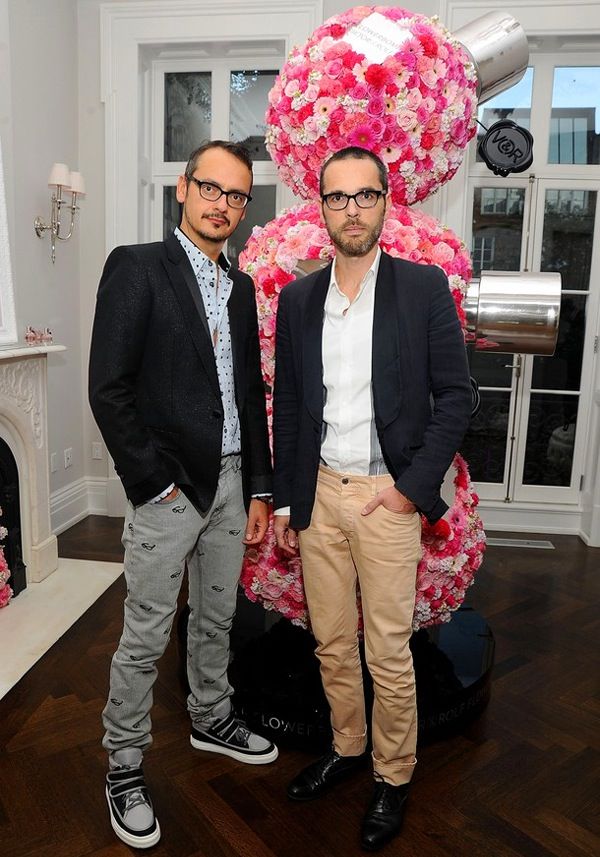 viktor horsting and rolf snoeren / ph:

jamie mccarthy, getty images
it is so nice to see designers wearing clothes from their own collections. there are a lot of designers out there, who just doesn't embrace their own work, says a lot doesn't it. dynamic dutch duo viktor & rolf was in new york this week to celebrate the 5th anniversary of their debut fragrance: flowerbomb.

championing their own work, viktor wore a spots painted shirt with 'spectacles' jeans, both from the current fall winter 2010 collection. rolf wore a really nice blazer, with a printed shirt from spring 2010.

(left) viktor & rolf fall winter 2010 / (right) spring 2010
viktor's spots painted shirt actually has a very nice quirky detail at the back of the collar. it is slightly raised in dark fabric to create a shadow/layered effect. that's the interesting thing about their clothes: it's full of fun little surprises. the shirt is also
available online here
.
totally spot on.
+