if you haven't been living under a rock for the past week, you would have heard that lvmh, parent company of louis vuitton, acquired 17.1% shareholding of fellow french luxury goods makers, hermès. i wanted to blog about it at the first instance, but many questions were unanswered until today, when lvmh officially filed a report on how the shareholdings built up. some of the burning questions i had:

- how did lvmh acquire the shares at about €80 whereas it is trading around €160 now?
- how did lvmh build up such a significant shareholding without anyone knowing?

i hope the below will help to answer the above questions. i try to make it as simple and interesting as possible. i find the story so fascinating as it unravels. we talk about heritage and buying into a brand, i think it's nice to have a little more understanding into their activities.



example in fictional prices

:

i drew the above diagram at lunchtime yesterday. yes, some of my colleagues read hello magazine, i draw pictures at lunch. using the above simple example, it should help to illustrate how lvmh managed to buy shares at hermès for cheaper than current market value.

back in 2008, lvmh entered into a contract with bank A which will last/mature for three years to 2011. lvmh agrees to pay $75 (based on price of 1 hermès share in 2008) plus $5 as fees to the bank. when the contract matures in 2011, the bank will pay lvmh $75 plus the difference in share price between 2008 and 2011. if share price in 2011 is $200, the bank will pay lvmh $75 + $125 profit. money will only exchange hands in 2011, and up to this point no one bought any hermès shares, they are merely using hermès as a derivative.

from the bank's perspective, they will lose out if the price of hermès shares rise to $200 in 2011, as they will need to fork out the extra $125. bank A therefore buys 1 share in hermès back in 2008 for $75 (using the $75 that lvmh will pay in 2011, so no net outlay for the bank). holding this share since 2008, the bank will then pass on any movement in shareprice to lvmh in 2011. the bank therefore is in a riskless position. how do they make money? bank A earns the $5 fee which was agreed.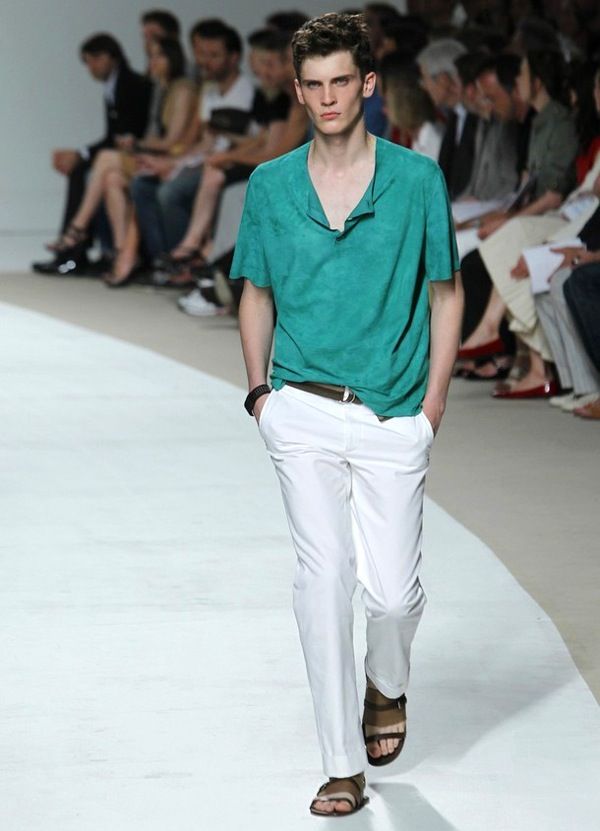 FRANCOIS GUILLOT/AFP/Getty Images, hermès spring summer 2011

however in october 2010, lvmh and bank A amended the contract. instead of receiving $200 in 2011, which let's assume is the market value of 1 hermès share, the bank will give lvmh the 1 hermès share instead. in monetary terms, it is the same as that share is worth $200. but the agreement was for lvmh to pay $80 in 2011, therefore lvmh managed to buy 1 hermès share in 2011 for $80. the downside for lvmh would be if shares in hermès plummets in 2011.

now just imagine the agreement back in 2008, but on a much grander scale.

and talk about surprising your competitor, hermès was informed only an hour before lvmh issued a public press release that they now own 17.1% of their company. how did lvmh or bank A build up such a big shareholding without anyone knowing, since regulations require one to disclose if you have 5% or more shareholding at anytime. surely bank A needs to disclose this information when they bought hermès shares in 2008?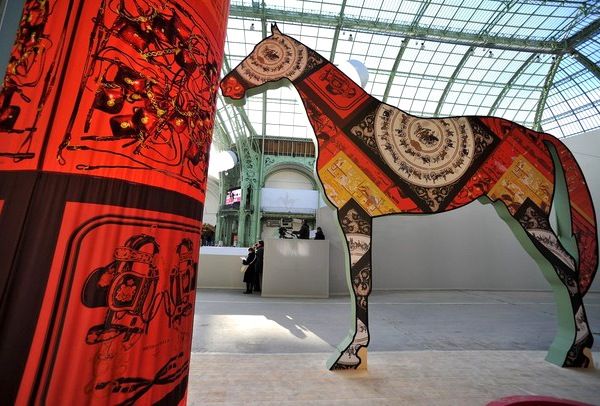 Pascal Le Segretain/Getty Images

the clever or crafty thing is, in 2008 lvmh entered into similar contracts with three different banks, each with contract values just slightly below 5% of hermès shareholdings. therefore nobody needs to disclose anything, and no one breaks the law. assuming each contract is worth about 4.9% of hermès shareholdings, that only brings lvmh up to 14.7%. where's the other bit to bring them up to 17.1%? it was suggested that lvmh already owns shares in hermès but below the 5% reporting threshold.

analysts call this a "stealth build-up", normally a method associated with aggressive takeovers. porsche's recent takeover of volkswagen was of a similar method.
+
in very high level summary
in 2008 lvmh entered into contracts to receive cash/shares three years later but fixed at 2008 prices. there were contracts with three banks, each with contract values just below 5% of hermès shareholdings so nothing needs to be disclosed, and hermès kept in the dark.
+
assuming lvmh did not amend the contracts and they agree to take cash settlement from bank A in 2011, lvmh will not need to pay anything but receive $125 in cash (less $5 bank fee initially agreed). to now receive hermès shares, lvmh will need to pay $80 to bank A.

in real life, lvmh needs to pay €1.45 billion for hermès shares. does lvmh really have that much cash washing around? analysts suggested that lvmh might sell their champagne division, the "moet-hennesy" side of the business. the champagne division wasn't doing well in recent years (recession, less people popping champagne or drinking fine wine) so it could be that lvmh wanted to get rid of this division. with the markets picking up now, they should be able to fetch a better price, and the sale proceeds will in turn be used to acquire shares in hermès.



FRANCOIS GUILLOT/AFP/Getty Images, hermès spring summer 2011

will lvmh be able to acquire more than 50% shares in hermès? 70% of hermès shares are privately held (ie not traded in public), and it was suggested that over 40 family members own these 70% shareholdings. private deals will need to be negotiated if lvmh wanted to buy more shares from some of the 40 hermès/duma family members. how united is this family?

and are there anymore contracts we don't know about with other banks for cash settlements in future but could potentially be exchanged for more shares instead?




Francois Durand/Getty Images, hermès fall winter 2010

hope you are still awake at this point. i find this deal to be totally fascinating, this could be the high fashion drama of our generation. the lvmh/ppr/gucci saga in the 90s was admittedly a little before my time. it's easy for me to comment on the outside, but there must be tensions and tantrums and turmoils behind their closed doors.

i don't think we've heard the last about this story. is someone already writing a script? this is going to be a summer blockbuster.





+