a month ago i received a call from
studiohomme.com
, asking if i would be interested to interview mr hare for their october editorial. it wasn't just an email questions and answers session, but an actual proper sit down coffee iphone voice recorder kind of interview. it would have been difficult with someone else, but having met mr hare a few times before, he made this non-professional journalist at ease.
i was listening to the taped recordings on my flight to singapore last month, furiously scribbling notes thousands of feet up in the air. there was so much i wanted to share, but it had to be trimmed down for
studiohomme
's editorial. so here's the interview in it's entirety, ok it's a little bit lengthy but we talked about the difficulties most start-ups faced, about his business model, about balenciaga bags and of course about his shoes.
so grab a cup of coffee, and i hope you will enjoy the below transcript of our conversation.
mr hare, spitalfields market /

september 2010
Can you tell me about what you did before launching
Mr Hare
? I remembered you mentioned you were previously at
J Lindeberg.
Yes, I was previously Head of marketing at

J Lindeberg

, overseeing the sales and marketing functions. The company then got bought out by a Swedish Investment Company, and they moved the office back to Stockholm. After a year of frustration trying to find another job, I decided I should do something else instead.
I think that' s how most entrepreneurs started out isn't it, you get bored, frustrated and that drives you to think creatively and see gaps in the market. Did it scare you at all, starting your own business, I guess without much previous experience?

Besides
J Lindeberg
, this is the second proper job after I left school. Previously I owned a surf shop and fashion boutique in London's Nottinghill about 10 years ago.
Really? What did you sell?

For menswear, we sold Dior, Raf Simons, Martin Margiela…
10 years ago?!
That' s crazy! How does that compare to having your own company now?
I find having a job to be scarier, you could lose your job any minute. When I was at

J Lindeberg

, we were doing everything right, making more money for the company then we got bought out and lost our jobs, where' s the security in that?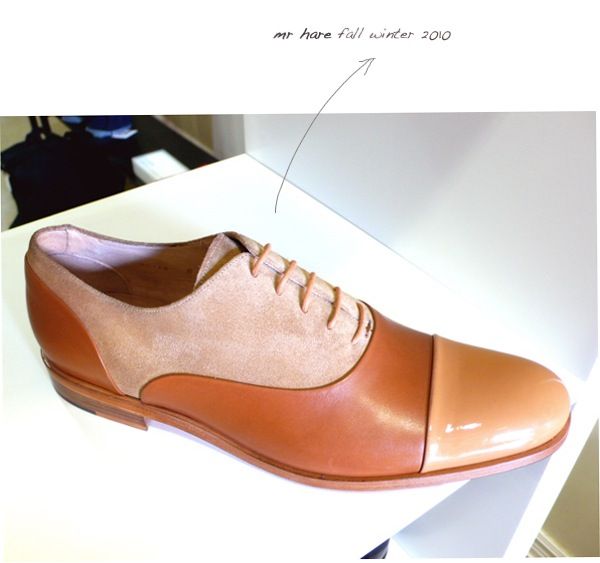 But starting your company in 2008 seems like a very risky thing to do, considering the economic situation at that time.
The economic crisis started just after I decided to set up the company. I had already set up the business plan which involved a bit of advertising, a couple of trade shows. My costs for doing that was about £30 - £40 thousand pounds. Then with everything that happened, I wanted to cut out as much costs as possible, and I got it down from £35 to £5 thousand. The first 6 months was really based on £5k expenditure.
So did you borrow from the bank or was it all your money?
It was just crazy to borrow £5k if I can earn and pay it back at the end of the year. Anyway I went
to the bank with my business plan, they can see I have sales orders coming in, it's a no brainer but they wouldn't loan me the initial amount I wanted. That was the economic situation at that time. I had my first stack of orders, I knew I have enough to go into production, so I spent the £5k on my Amex.
That sounds expensive, with the interest rates. Did you manage to break even on your first collection?

We actually made a profit in the first year.
I am coming into business with you!
(Haha) It was miniscule. I'm trying to build the company in such a rate that it is self sustaining, so I don't need to get any investors.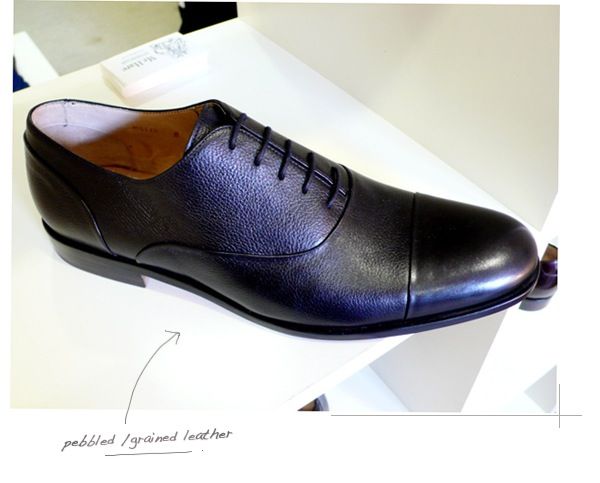 Was it a big challenge to go from Marketing to shoes designing?
When I was at
J Lindeberg
, I actually started their shoe range. I brought in some shoe production people to make the range for us, did the research into design, which is similar to what I am doing now. I do more design now, but I've done every other aspect of the job before so it wasn't a major stretch for me.
Tell me about your shoes and the process of making them. I find the first collection to be very romantic, nothing like that in the market. You've obviously seen a gap there.
The most important thing to me when it comes to shoes is the shape. Whenever I look at a pair of shoes and something's wrong, it's always the shape. The economics of making shoes is that when you start you have to invest loads of money because every time you make a new last, you have to make one for every single size. It ends up costing a few thousands pounds. I am interested in pushing men' s shoe shapes. I love Jermyn Street shoes, but they don' t change very much, you have that quality but they always make the same shoes. With fashion companies the quality goes out of the window in place of interesting shapes and details. I want to marry the two and make traditional shoes but with exciting last shapes.
(left) jay jopling in "orwell stingray", (right) jefferson hack in "jerry lee" /

getty images
I remembered I excitedly sent you pictures of Jefferson Hack and Jay Jopling in
Mr Hare
shoes. They are both very stylish and influential individuals. How do you feel about celebrity endorsements or your shoes appearing in street style blogs?
I was very happy to see Jefferson and Jay in my shoes, more so because they went out and bought the shoes. I did not send them any shoes and I rarely do gifting. I don't like the idea of someone buying my shoes because they've seen it on some famous people. I want people to buy it because they like the construction, the fit, the feel, the story behind it. It was nice seeing them in my shoes, means they like it enough to buy it.
Was it scary for you, selling the shoes online? Can you tell me what percentage of your turnover is attributed to online sales?

It absolutely scares me, especially at the beginning. The prices are high and it's a relatively new product, but the first season sold out pretty fast. I think once you have confidence in the product, once you know the sizes, it's pretty straightforward. I am buying more and more stuff online. These days, shopping on foot is just tiring. Online sales account for about 30% at the moment, and growing.
Your shoes are now available at some of the best stores in London: Harrods, Selfridges, Liberty, Dover Street Market. In Paris, Colette and
Studiohomme.com
. Are you worried about over expanding or overstretching yourself considering this is only your third collection?
No not at all. My strategy has always been to sell your products in the best shops in any country. We know when to stop, you' ll never see our brand turning up in a mid level shop. We were in all these best shops because we sell enough into those stores. They come to us with the demand and we deliver. The minute they can' t sell those shoes they will stop buying. At any one time, each store will stock a few styles and sizes, so not much overlapping.
The last time we met, you mentioned that you' re introducing some accessories for your Fall Winter 2010 collection. Any more news on that?
That was the initial plan. I had some samples made, bags and belts, but it did not turn out to be what I envisaged. Rather than pushing it out, I want to take the time to get it right. I held it back for one season to refine it.
Collaborations are all the rage these days, are you keen to do one?
I read somewhere, that someone came up to this very famous women' s shoe designer at a party and commented that his shoes were very uncomfortable. I would've died on the spot if it was me! Have anyone came up to you to give you feedback?
All the time! Fortunately, the comments were very positive. With women' s shoes it' s an entirely different game. But so far it' s all been good.
Well I thought they fit really well.
(Haha) Thank you, that' s what I like to hear!

mr hare "king tubby", spitalfields market /

september 2010






hope you enjoyed the transcript. mr hare shoes are available from studiohomme.com. click here to find out more.










+