christian louboutin for marlon gobel / ph:

neilson barnard, getty images
what a stunner! word began circulating late last year that christian louboutin would be designing shoes for new york based designer marlon gobel's fall winter 2011 collection. it is no meant feat for relative new comer gobel to impress and persuade the shoe maestro to create a small collection just for his show. marlon gobel presented his fall winter 2011 collection in new york on thursday, and as expected all eyes were on the shoes.

the shoes are absolutely breath-taking. i don't want to go into the realms of whether the shoes will be practical for retailing or airport wear. these are created for the show and it does nothing short of show stopping. and i feel for gobel, there's so much hype around this collection that cliche to say, it will make or break him. i admitted many times that i am a shoe person, so naturally i'm drawn to these pieces of art. his clothes are actually pretty good, i do like several pieces but can't help feel that the clothes played second fiddle to the show stopping footwear, red soles or not.

christian louboutin for marlon gobel / ph: neilson barnard, getty images


the gold colored spiked slippers appeared to be a hybrid of the rollerball slippers with
pigalle spikes
. i shall hazard a guess: rollerball pigalle? i know it sounds crazy but i would so wear that. and then there's the calmer nude suede slippers with the baubles details on the front. totally fit for a prince's wedding! and then there were varying versions of tasseled and ribboned slippers.
christian louboutin for marlon gobel / ph: neilson barnard, getty images


are those the denim spiked rollerballs? if so i believe they are from current spring 2011 collection.


christian louboutin for marlon gobel / ph: neilson barnard, getty images


tell me, where and when can i get my hands on these! in case i wasn't clear enough, i really
❤
❤
❤
. these must be my favourite louboutin shoes, ever.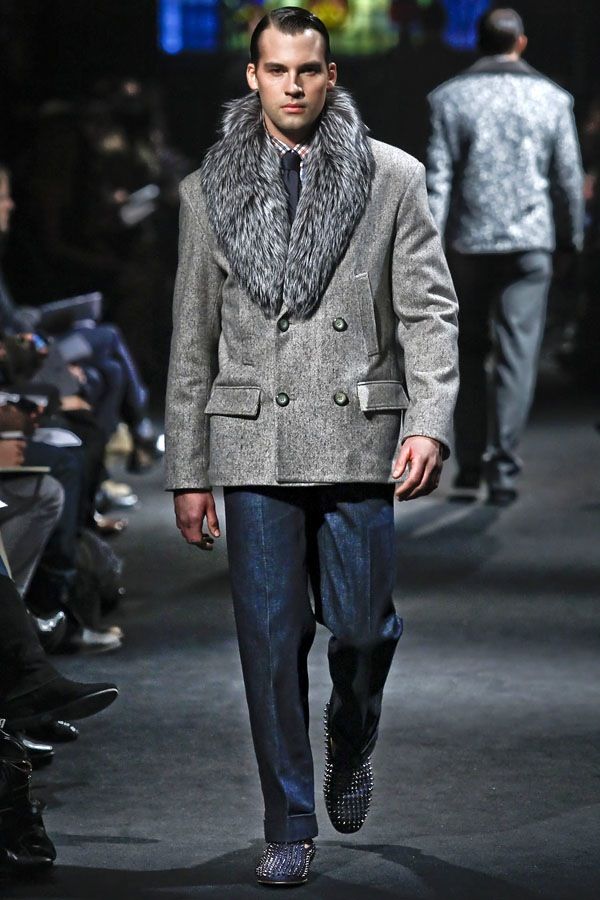 clothes wise, i love the above coat with fur collar. not used to the proportion of the pockets but i can get used to it.


even against questyionable christmas styled jumpers and checked trousers, the gold spiked pigalle rollerballs still looked amazing.


also love his whimsical painted jackets. totally dandy.
i would say this is a dandy and romantic collection, further made interesting by the gorgeous shoes. i hope the shoes get put into production. probably will cost a mortgage, but that's not stopping me from trying in stores to my heart's content.
marlon gobel, another name to keep a lookout for.
+