yesterday i mentioned that i will be heading towards spain for a week of (hopefully) sunny vacation in june. besides looking for swim/beach shorts, i am also on the lookout for bow ties. for the beach? course not. it's a friend's wedding in three weeks time, and i would like to wear a bow tie for the event. unfortunately i'm not the dandy kind who wears bow ties on weekends or during fashion week, but i thought it'll be nice if there are special occasions for it.

mentioned it on twitter yesterday, and there were several really good recommendations.
dal chodha
suggested marwood, a stunning debut collection of accessories from designer becky french. i really really love the white lace bow ties, it's so delicately beautiful it will be perfect against my attire choice of a crisp white shirt and
navy dinner jacket from h&m x lanvin
.
the bow ties retail for
£80
, available from london's bstore or at
marwoodlondon.co.uk
.
if the lace bow ties from marwood teaches me anything, it'll be texture. wool is not usually a material that i would associate with bow ties, but these glorious handmade woven wool ones from savile row's e tautz are a close contender. i think the burst of summery colors and wool texture will work really well with my light wool navy jacket. my only problem: it comes untied.
ermm
i need to learn how to tie them up *
sheepish
*
£95 from e tautz
, i love.
new to mr porter this week is j crew's selvedge chambray bow tie. especially loving the exposed selvedge edge and slight vintage feel about it. however, it might be a little too casual for this occasion.
£49 from mr porter
.
for slightly quirky choices: i really love these ceramic bow ties from cor sine labe doli. the matt black ceramic tie will blend in nicely, until one looks at it closely. great conversation piece this will be. i really like the glossy ceramic bow with a slight gold tip. quirky but doesn't quite stick out like a sore thumb.

£137 from luisa via roma
.
can't really talk about bow ties without mentioning french designer alexis mabille. the hand made silk and velvet bow tie is so luxurious, paired with the dinner jacket it simply is sumptuous:


the perfect size, perfect color.
£129 from couture lab
.
thing is, i don't really wear bow ties on normal days. so i won't really get much wear out of it if i spend lots of money on the tie. so getting one from the highstreet is actually very appealing to me right now. i always see nice bow ties whenever i am at topman's oxford circus flagship, so i might just pop in this weekend to see if i can pick one up.
loving the above burgundy skinny dot bow tie from their online shop.
£10 from topman.com
.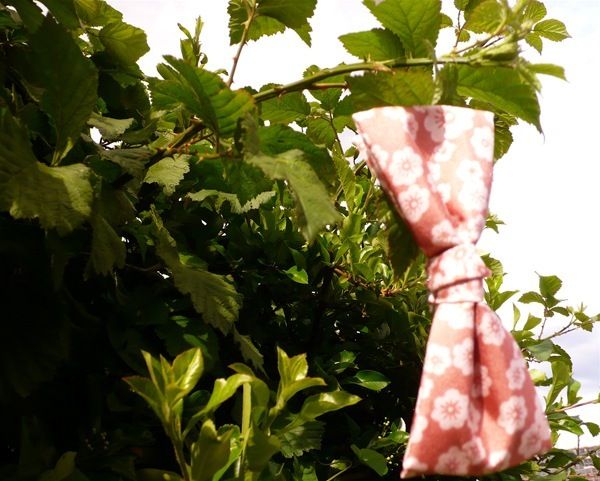 and if all else fails (ie i am too lazy to venture out to the shops), i can go pluck this from my garden then. the beautiful clip on bow tie from jacobs by marc jacobs for marc by marc jacobs in collaboration with marc jacobs for marc by marc jacobs (ie the marc jacobs special range). sorted.
the all important question: which bow tie do you prefer?
+