three weeks ago before i left for my holidays at the sunny costa del sol in spain, i visited orlebar brown's first standalone store at london's nottinghill. i thought, what a perfect excuse to check out the brand new store and also to pick out some gear for my trip. designed by philippe malouin, the store has the feel of a '1960's poolside utopia'. the shop's design also takes inspiration from the palm beach life during that decade.

though their core products are the iconic beach shorts, the new one stop shop now stocks everything we need for the beach/resort getaway. the expanded range now includes polo shirts, beach bags, resort shirts etc. their business has progressed so much since
the last time i spoke to orlebar brown's founder, adam brown
. they were beginning to sell online with a few key styles of swim shorts, and now they opened their first brick and mortar store with an expanded range. so i caught up with adam again, and picked his brains on the recent developments.
i really love the new shop, i think it's a perfect location and great fit in the neighbourhood. can you tell us why you picked nottinghill to launch your very first shop? any plans for a second or overseas shop?
ab: with a bigger collection this summer and more of a story to tell, retail was an obvious step for orlebar brown. with our move this year 'from the beach out of the pool - into the resort', it was especially important that customers understood the whole story and direction in which we were moving. the primary focus of the shop was always so it could be a window into the whole range. london was always going to be the home of our first shop but when looking for a location, there were several options, but as this is our first shop we really did not want to take on a big space with all the risk that entails. this was much more about the right space coming up in the right location.

we do have plans for a second store. fingers crossed, there will be one in new york within the next 18 months or so. both will be smaller 'boutique' type shops rather than all singing all dancing 'flagship' type stores.
orlebar brown+want les essentiels de la vie "luxury summer kit"
your product range has expanded quite considerably. i feel you are expanding swimwear and building a complete resort-wear wardrobe. is product diversification a higher priority for the business than say entering new geographical markets?
ab: yes the product range has increased and diversified over the last year. the move to take orlebar brown into the resort for 2011 was a conscious move on our part - as well as a reaction to the requests from our customers. using the core styles of our classic shorts (setter, bulldog and dane) as our starting point, it just seemed completely right to introduce a range of t shirts, toweling polos as well as shirts and lightweight jackets to the collection to compliment those original pieces. everything revolves around the shorts and should be able to be worn with the shorts. we have always been the short you can swim in, rather than a swim short.

as to whether it is a higher priority than say entering new geographical markets, i think the two are intrinsically linked. by broadening the product offering, it has also helped us move into other geographical markets and become more interesting worldwide rather than just where the sun shines. our shorts can be worn on and off the beach - so our shirts, jackets etc can be worn every day as well as on holiday.
i think it is better to establish the framework for any brand identity early rather than later. if we tried to make the move to 'resort' in five years time, we would have been that much bigger (hopefully) and it would have been a more difficult message for people to understand. by launching the extended range now and allowing people to understand what we are about, hopefully customers will begin to always associate orlebar brown as a trusted one stop shop.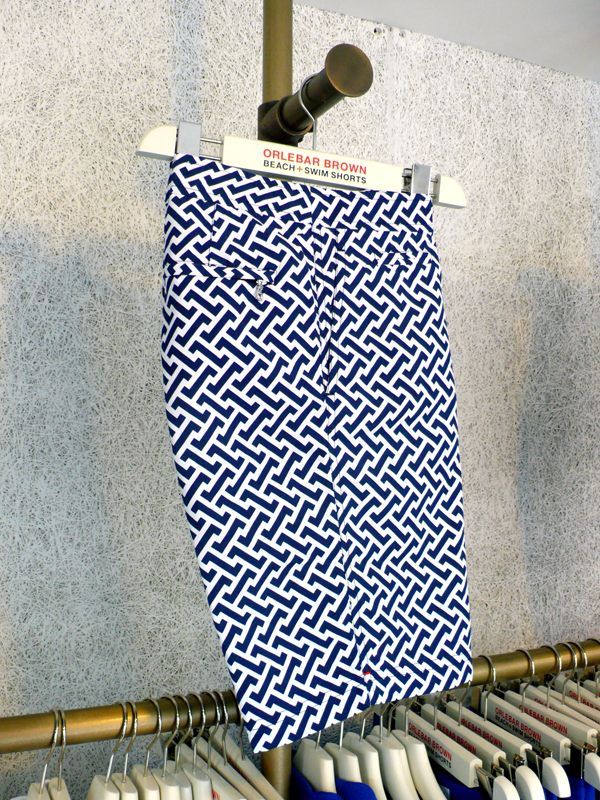 orlebar brown geometric print "dane" swim shorts
asia, and indeed china, is poised to be the biggest consumer of luxury goods in the very near future. what are your thoughts? do you have any plans to head east or set up shop there?
ab: asia is of course very important to any emerging brand and on our radar - not least because from the start we have had many customers from asia supporting us. our distinctive feel seems to sit well in that market. we do now have our first stockists in hong kong (lane crawford), japan (beams) and south korea (december), and we are (hopefully) about to receive our first order from a fabulous multi-door chain in china.

we have always been quite strategic about our approach to sales in general, focusing on europe and the US. not only these markets we perhaps understand better, i have always been slightly wary that if it does not work when you launch in any store or country it is very difficult to get a second chance. we wanted to get it right in the home markets first. as of six months ago we are more focused on asia and it is something we are very excited about in terms of retail potential.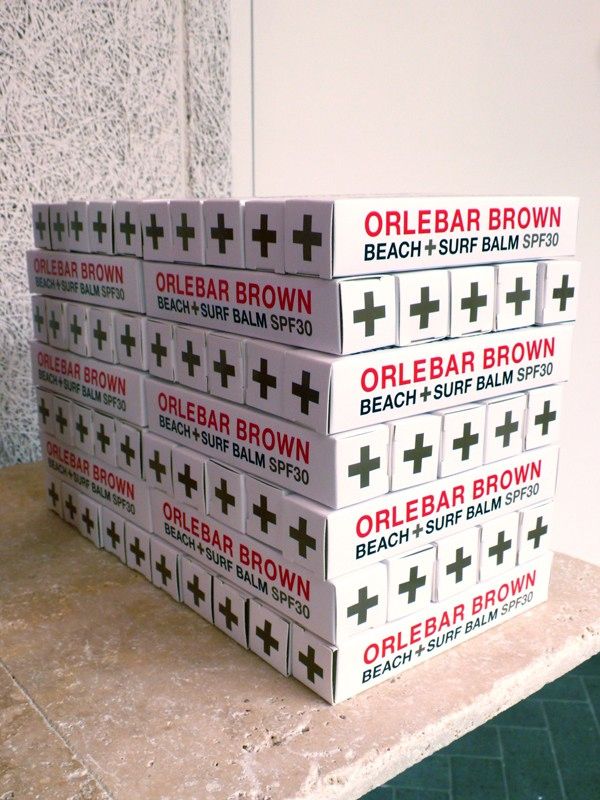 summer is coming up. if you can recommend one orlebar brown product for the summer holidays, what will it be and why?
ab: my personal two favourites from the new OB resort collection are the t shirts (tommy t and bobby v) and the shirt jacket (dexter). i have been wearing the samples since last summer and without doubt they are my favourites. the weight of the fabric is perfect, and they wash brilliantly. they fit properly - even if I say so myself.
orlebar brown "bobby v" and "tommy t" shirts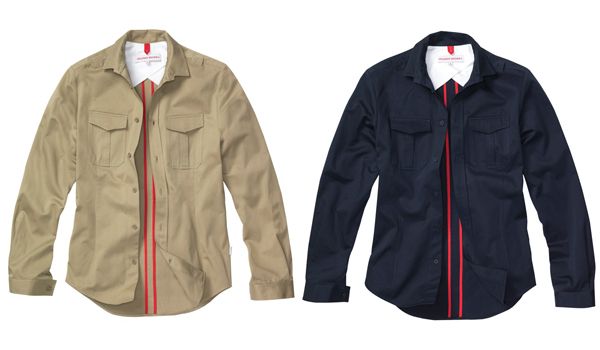 orlebar brown "dexter" shirt/jacket
the dexter (shirt jacket) is light enough to wear as a shirt or heavy enough to wear as a light weight jacket. the more they are washed the better they get. the red detailing at the top, underneath the breast pocket flap gives just a flash of colour and i love the nod to traditional tailoring with half buggy lining, shaped sleeves with elbow darts and the epaulette inspired detailing on the shoulders. flexible, useful and looks great.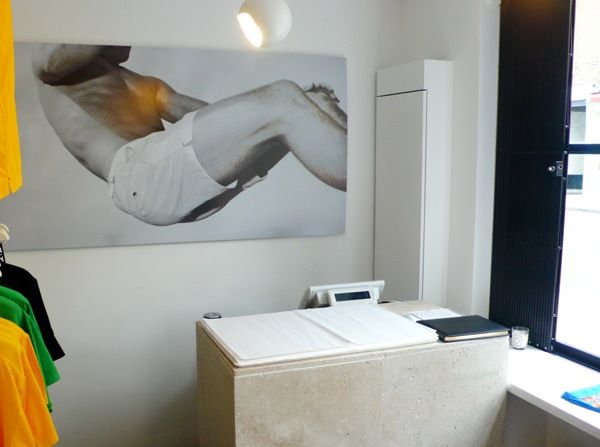 there you have it, style tips from the man himself. it was very interesting for me, to hear from adam his thoughts on the business, branding and the overseas market. i hope you enjoyed it too. if you are in london, do visit their beautiful boutique at 178 westbourne grove, or online at
orlebarbrown.co.uk
.
+