Harry Styles / JustJared | Saint Laurent Fall Winter 2013
Harry Styles from One Direction was pictured in New York on 7th December 2013. Harry wore a camel coloured duffle coat from Saint Laurent by Hedi Slimane, over a
brown plaid shirt also from Saint Laurent
, black t-shirt, denims and brown suede boots. Black shades and a blue headband accessorised the super Brit boy.
It is not surprising that Harry wore another Saint Laurent coat, he has been seen on numerous occasions wearing outfits from the Parisian fashion house. The whole rock and roll and edgy direction under Hedi Slimane worked really well with Harry. He has the height and lanky frame to pull off almost all of the runway looks. He
followed the similar formula earlier in the week
, where he paired the Saint Laurent coat to a same shade / matching plaid shirt. Great layering, an epitome of off-duty rock chic look. Love the head band keeping his tresses in place. He is giving me a very strong Mick Jagger vibe.
I wished Harry would wear other labels, but if it ain't broke why fix it. The Fall Winter 2013 collection has to be a mega success for Saint Laurent menswear. Numerous celebrities were seen in them, and according to store buyers the pieces were flying off the shelves. Some critics weren't very kind in their reviews of the show and direction that Hedi Slimane was taking, but the subsequent column inches in print and digital proved otherwise. More importantly, the collection connected with the buying public and that translated into sales. Will SS2014 continue in the same rein?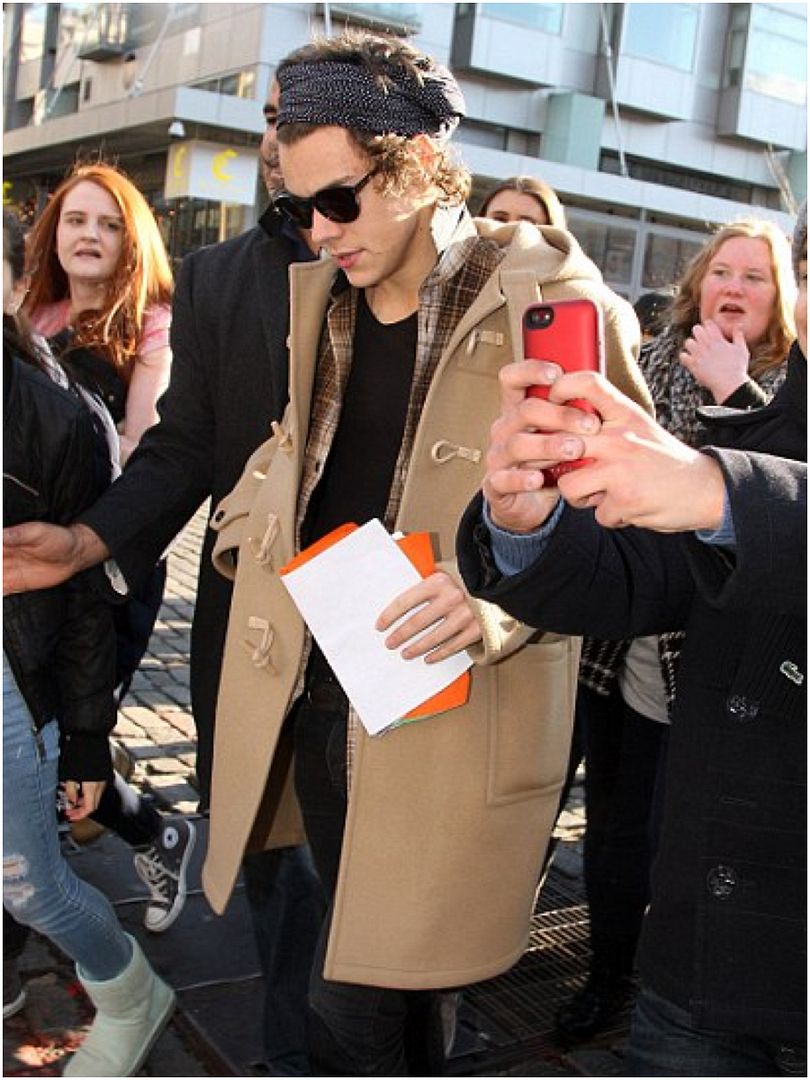 Harry Styles / Daily Mail
Is there someone more important than Harry that the fan with the red phone needed a picture of? Or was he talking a selfie, and Harry not included?? You can shop the Saint Laurent wool duffle coat in camel/brown online from:
The coat also comes in black, available online from:
-
Harrods
(8th December 2013: 30% off in fashion sale preview)