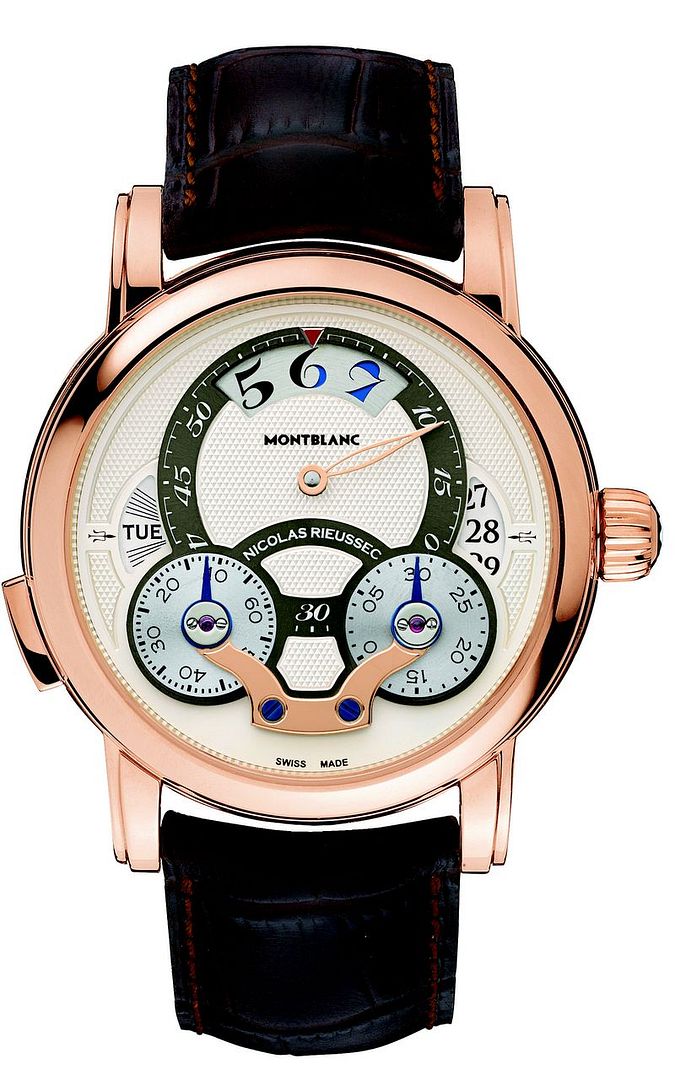 To commemorate the creative watchmaker Nicolas Rieussec, an ingenious watchmaker and the inventor of the first patented chronograph in 1821, Montblanc in 2008 launched the Nicolas Rieussec chronographs timepieces. Debuting this year is the
Montblanc Nicolas Rieussec Rising Hours Chronograph
(above left). Montblanc first used rotating discs to replace the hands on the chronograph's counters. A rotating disc was afterwards installed to indicate the hour in a second time zone. With the new 'Rising Hours' series, which relies on two discs, one atop the other, to show not only the twelve hours, but to also indicate whether each of the dozen is a daytime or night-time hour. There are a lot more complications and technicalities to this timepiece which you can explore more in stores. This timekeeping microcosm is ensconced inside a classically round 43mm diameter case made of 18 ct red gold with finely terraced horns. A brown alligator-leather strap with large reptilian scales is affixed between the horns. The fluted crown, which is likewise made of 18 ct red gold, bears a mother-of-pearl inlay shaped like Montblanc's emblem. We previously featured
Hong Kong actor Nick Cheung
and
Hollywood actor Josh Lucas
in the Montblanc Nicolas Rieussec Rising Hours Chronograph timepieces. A truly stunning watch that would fit any men's wrist. (What is Santa's email address??)
Also new this year is the
Montblanc Star Quantième Complet
(above right), a gorgeous wristwatch that is equally appropriate with a classic business suit or to complement the formal elegance of a tuxedo. The timepiece has a classically elegant dial that shows a full calendar: date, day of the week, month and lunar phases, which is considered a rarity amongst automatic watches. Aesthetically wise, this is classic looking and combines sovereign elegance with masculine flair. For the budget conscious, the above stainless steel model still gives a modern elegant touch.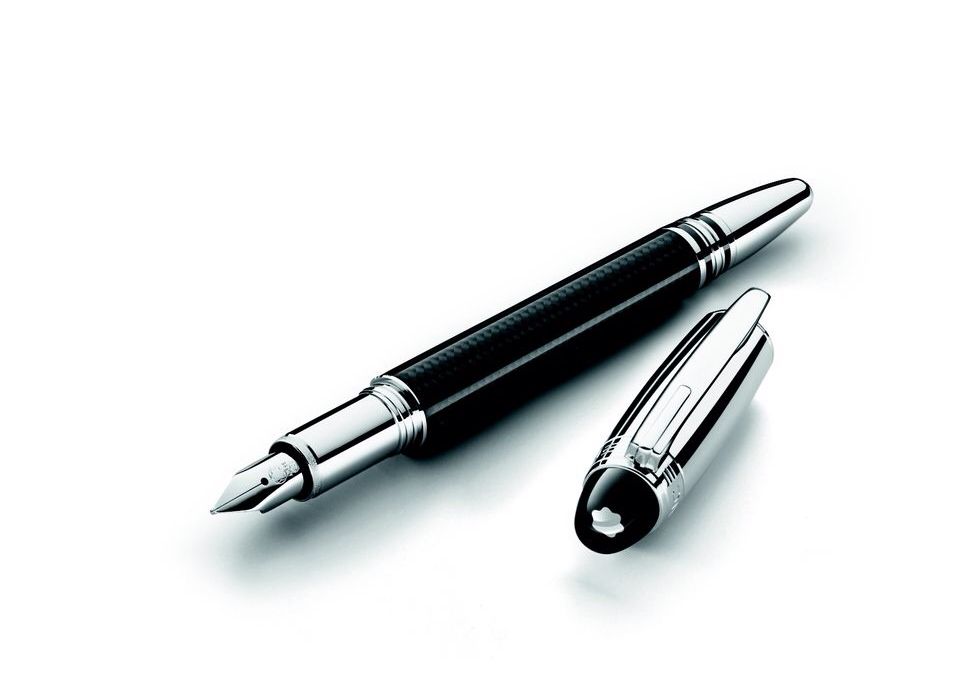 New from November this year is the Montblanc StarWalker Carbon range of writing instruments (above left). The use of carbon fibre delivers a light yet robust writing instrument, and gives the classic Montblanc pens a subtle modern update in appearance. A variation also comes embellished with platinum-plated fittings and cap, for those who like theirs a little special. A great present to encourage everyone to get back to basics, to practice on their handwriting.
Also new this year is the Montblanc Heritage Collection 1912 (above right). For those who appreciate the final details in life, the collection includes a series of writing instruments with mechanism that controls both the complex retractable nib movement and the piston filling functions. The caps and barrels come in deep precious black resin, decorated with polished platinum-plated fittings. The 585 solid gold and rhodium-plated nibs are crafted and polished by hand, and featured triangle shaped heart holes, specially designed for this collection. If you are buying a present for the person with (almost) everything, this should satisfy the toughest of critics.
5.
Leather accessories are always a safe bet when it comes to gifting. The Montblanc Meisterstück Selection of men's leathergoods come in a myriad of colours including mocha, elegant flannel, warm cognac, rich burgundy and classic navy. For the cosmopolitan businessman, I recommend the double gusset briefcase and sleek document cases. For young professionals climbing the career ladders, the small leather goods assortment including smartphone and tablet cases should do nicely. What you do is important, how you look doing it is just as. The gorgeous accessories come in fine leather, whispered with their signature white star emblem. (what is Santa's email again??)
You can
find out more information and shop online at Montblanc.com
.
A great selection of Montblanc accessories is also available online at Mr Porter, including the StarWalker Carbon writing instruments and Meisterstück leathergoods recommended above. They are also offering free express shipping till 21 Dec 2013, but I wouldn't leave it till that late. Shop Montblanc accessories online at
Mr Porter (US)
and
Mr Porter (International)
.
+