Aesop recently opened at Marylebone High Street in London, and I dropped by lately to have a nosy around. I love this Australian skincare brand, their products work a treat for me and their pared down clinical style packaging makes any interior look amazing. I love checking out their stores as each one is uniquely different yet unmistakably Aesop. For the Marylebone High Street store, the brand collaborated with Paris and London-based architects Studio KO. The pared-back space celebrates the local streetscape, urban history and bones of the original building by exploring textures and monochromy.
In line with the season, autumnal leaves were artfully strewn by the entrance, the store and the environment in harmony as one. Beneath the fallen leaves lie gorgeous original wooden flooring that has lived many lives, which the architects painstakingly restored.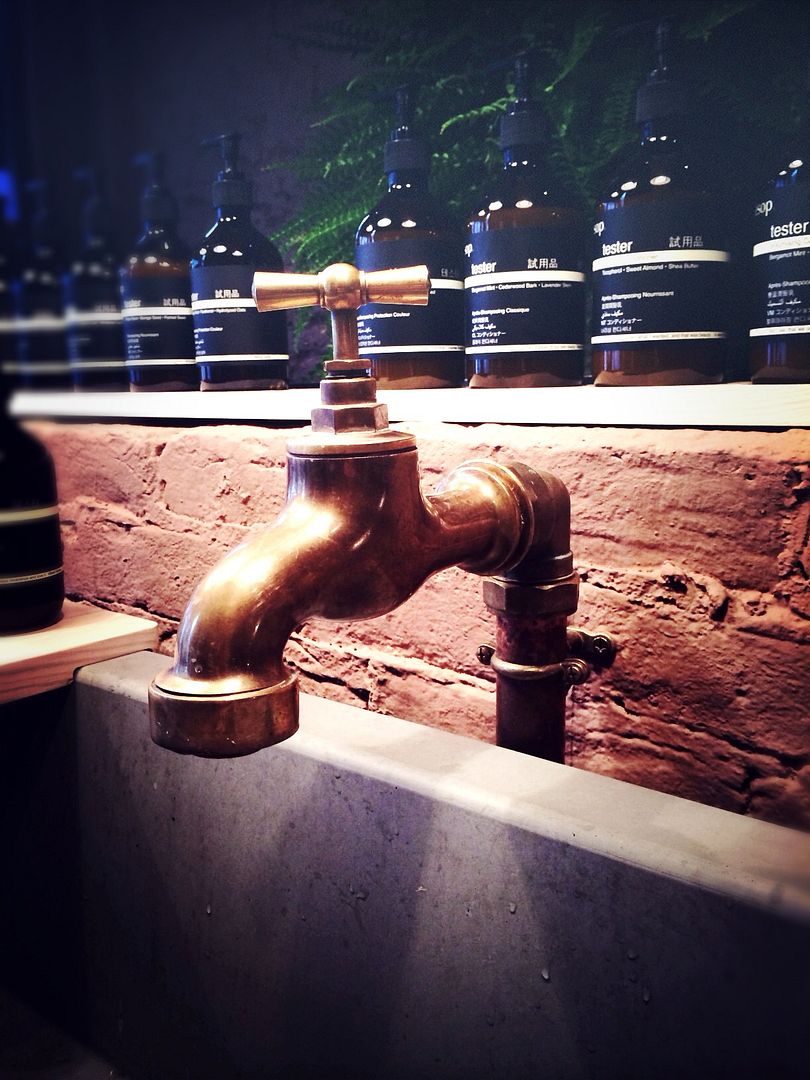 Close to the entrance, a moulded raw concrete basin greets us and we get to test the products, each lined up beautifully and in unison. The concrete, the exposed bricks, the metals, the foliage, the fresh ferns: all forming a visual feast for the eyes.
I headed to the store to get some inspiration for Christmas gifts. Here are some of my favourites:
Mouthwash is probably an unconventional gift and the recipient might not want to speak to you ever again. But Oral B or Colgate from Boots this is not. My unconventional choice pick comes in a gorgeous glass bottle, which should occupy a proud space in any self respecting individual's bathroom. The
500ml Aesop mouthwash
is alcohol free and it smells lovely. It's more spearmint than peppermint, and contains hints of aniseed. The bottle is aesthetically beautiful and the product works a treat (I've been using for the past week!). At £17 for a bottle of mouthwash, this is definitely quite out there. But a fun Christmas present or stocking filler this make, together with form and function.
You might even get a kiss from the recipient (fresh breath included). Get more than you bargained for!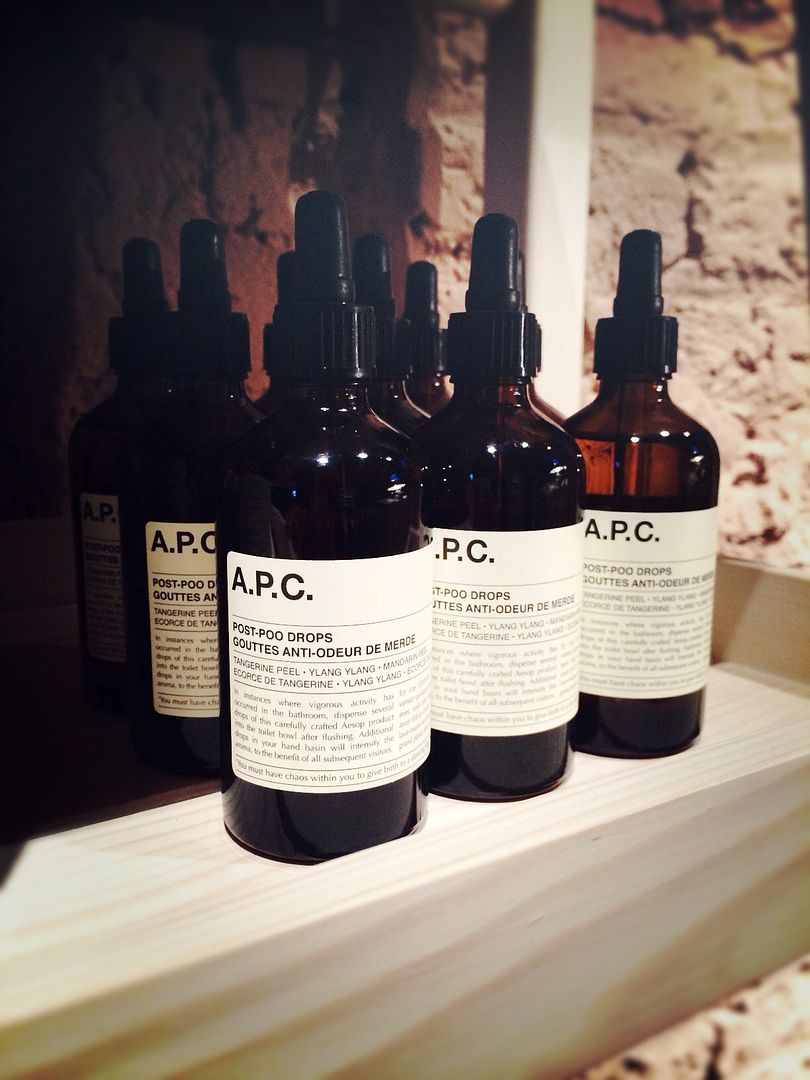 Next on my gift guide, also unconventional, is the
Post-Poo Drops in collaboration with French label A.P.C.
There is nothing to be hoity poity about bathroom habits. The clinically stylish brown glass bottle comes with a handy dropper. A few drops should cover all offending odours. Christmas is all about having fun, the staff told me that this was quite a best seller last year. Brits, uptight?
Being single, I usually lose out financially during gifting (can you tell I'm an accountant? No, I really am). Rather than buying gifts for my brother and sister-in-law who I both love dearly, I started buying presents for their beloved Shetland Shepard dog instead. The gentle
Aesop fur and body wash
should be kind enough for our favourite four legged friends, again this makes an excellent present or stocking filler.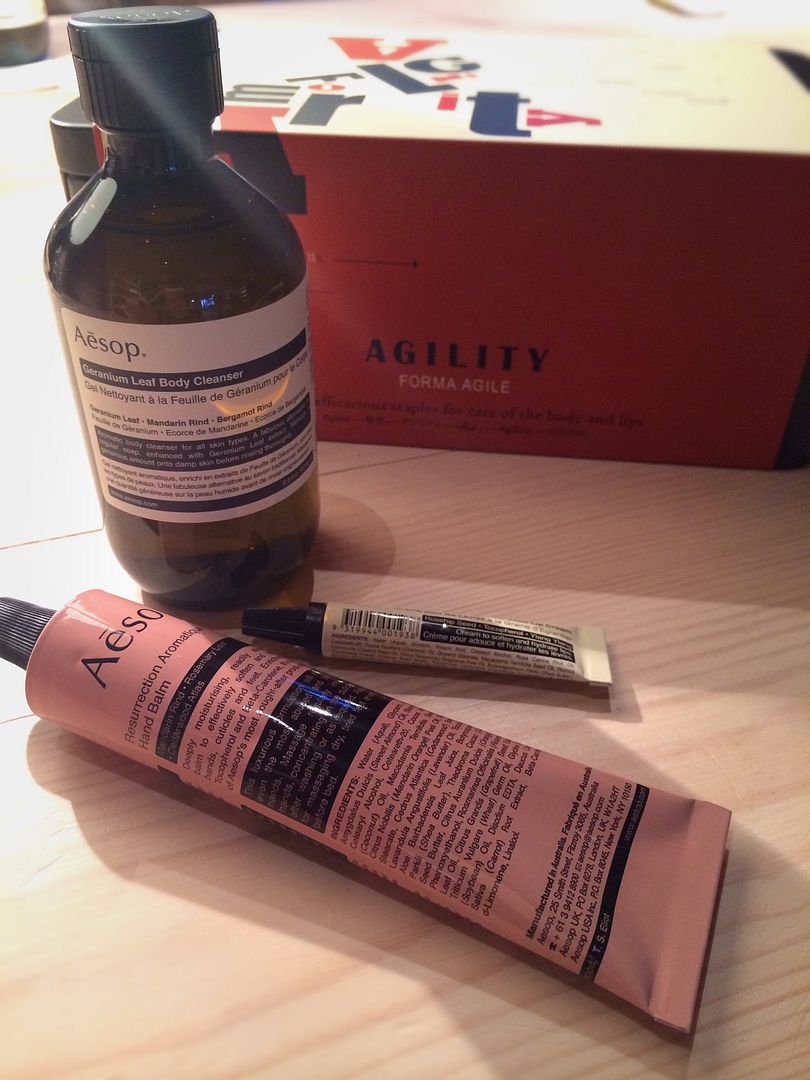 If unconventional gifts are not your thing (me, accountant, boring?!), this should be well received by most. Aesop launched a series of 'Futurists' gift kits this festive season, and the
Aesop "Agility" kit
is my favourite. At £40, the kit includes their gorgeously smelling Geranium Leaf Body Cleanser, the Resurrection Aromatic Hand Balm (tried, tested, bought, swear by, love love love) and the Rosehip Seed Lip Cream, all in full sizes. The kit comes in a stylish matte metal tin which one can reuse.
Here's an artful short clip to celebrate the new 'Futurists' gift kits. Aesop did a fresh interpretation of the Italian Futurists' manifesto. First published in Le Figaro in 1909, this articulation is part polemic, part avant-garde prose:


Aesop Marylebone is at No. 69, Marylebone High Street, London. Also check out my pics of
Aesop Islington
and
Aesop Shoreditch
(before they moved further down Redchurch Street this year).
Need more inspiration? How about these two Aesop gift kits, exclusive to Mr Porter: