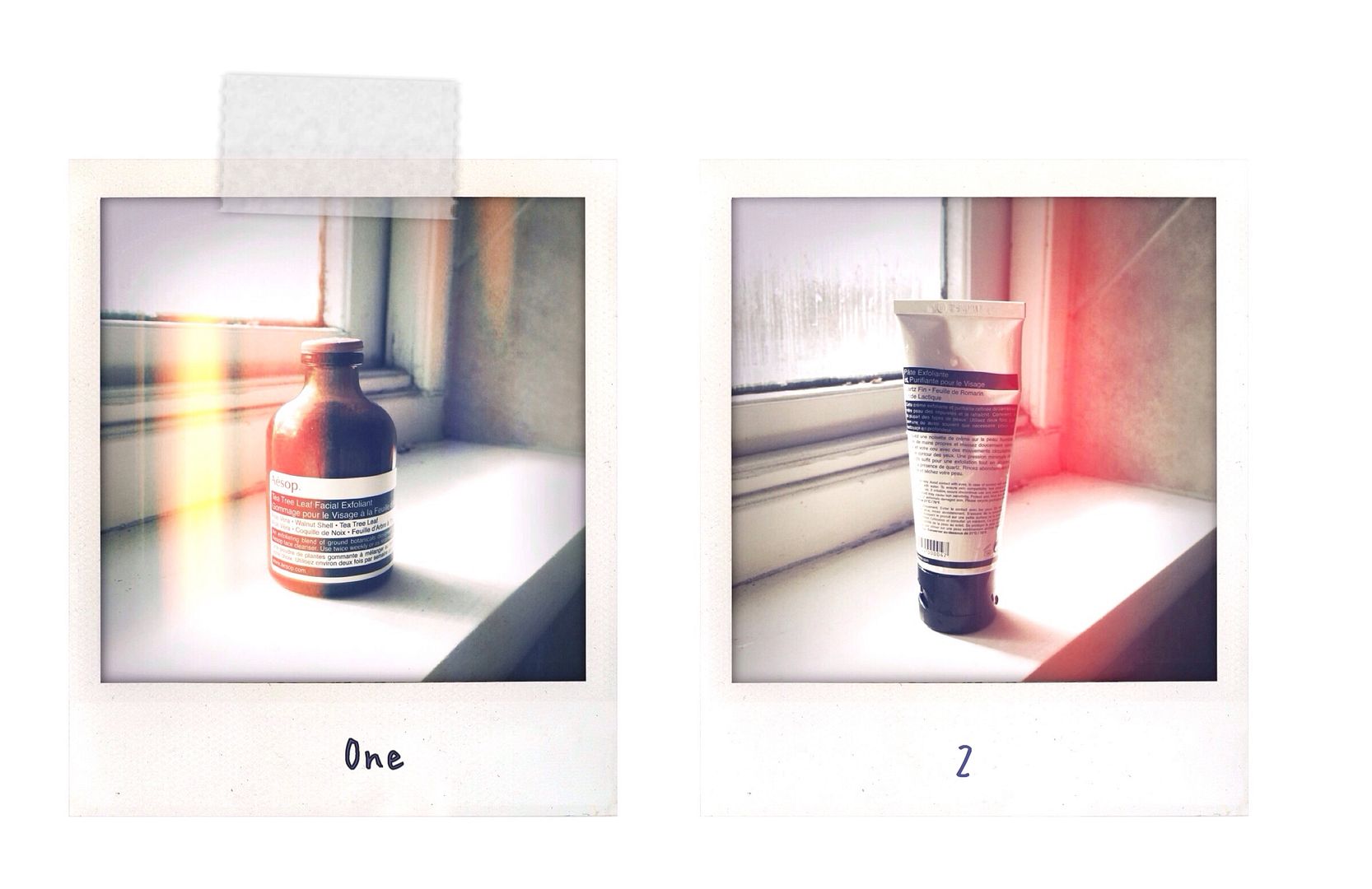 For the past week, I have been road testing two exfoliants from Aesop. In the winter months, my skin tends to get a little dehydrated: the onslaught of excessive heating indoors, the merciless gale force winds we are braving, and just generally not drinking enough fluids. I tend to pile on tons of creams, serums and moisturisers to combat the elements, but lately I realised that to get the max out of these products, I need to exfoliate. I don't lie, I am lazy, sometimes I don't even use a facial cleanser (quelle horreur!). Sadly, there are no shortcuts to looking and feeling good. Exfoliating two to three times a week rid the dead skin cells from the surface, and allow new skin to regenerate. And all the expensive serums and potions we lather on post exfoliating will sink in more, maximising impact.
1. Tea Tree Leaf Facial Exfoliant
The Tea Tree Leaf Facial Exfoliant is a dry mix of crushed botanicals to buff and scrub combination or normal skin. Blend half a teaspoon of mixture with your preferred facial cleanser and massage gently over face and neck. Rinse with warm water and pat dry.
I love anything that comes in those beautiful brown clinical looking Aesop bottles. They just makes the bathroom looks so much better. Aesthetics aside, I love using this, I felt like I was in Harry Potter or Charmed, pouring the crushed botanicals and mixing it with other potions (sorry cleanser). The great thing is, we can vary the amount of exfoliant depending on how we feel that day, how much we need. I mixed the exfoliants with my
Aesop Parsley Seed cleanser
and it smells amazing. You can also mix it with your favourite daily cleanser too.
2. Purifying Facial Exfoliant Paste
A cream-based exfoliating formulation suited to most skin types. Dispense half a teaspoon of Purifying Facial Exfoliant Paste into the palm of your hand. Work over face and neck, allow the Quartz and Lactic Acid to gently exfoliate by employing minimal pressure. Rinse thoroughly with warm water.
For lazy buffs who don't like mixing your own exfoliants, or for frequent travellers, this is a great product. I made the mistake of rubbing vigorously the first time round as it doesn't lather much, and boy that hurts. Gently massage, then rinse off. You don't get the tea tree aroma like the first exfoliant, but skin feels just as polished and great. I suggest leaving this in the shower to remind ourselves to frequently use it.
Conclusion: number one is fun (and great as a gift), number two is fuss-free. Both left my skin feeling smoother, and it felt good. Slap on our favourite moisturiser and we should be as good as new.



"A gem cannot be polished without friction." ~ Lucius Annaeus Seneca
Complete your skincare regiment with these other Aesop products: