Joseph Gordon-Levitt / Source: Jeff Kravitz/FilmMagic, Montblanc
Joseph Gordon-Levitt attended the Oscars held at Hollywood and Highland Center on 2 March 2014 in Hollywood, California. Joseph Gordon-Levitt wore a tuxedo with hints of sparkles from Calvin Klein Collection. As in many occasions, he wore a red pin/button on his lapels. The pin is for an organisation he advocates: "HitRecord". HitRecord is an open collaborative production company which includes writers, musicians, filmmakers, video editors, animators, illustrators, photographers etc.
On the red carpet, he also gave a hint of the cufflinks he wore underneath the tuxedo: a pair of classic Montblanc bar motif cufflinks in onyx, combined with stainless steel. It is often difficult for men to shine on the red carpet, but beautiful accessories come through with the raise of the hands, the kick of the heels. I love cufflinks and collect them if I can, when budget allows. It is a nice way of accessorising an office attire, I actually have more cufflinks than double cuff shirts. I like vintage pieces, or the odd piece with semi-precious stones (ie, no diamonds, yet).
Joseph Gordon-Levitt and Emma Watson / Source: Kevin Winter/Getty Images North America
Joseph Gordon-Levitt and Emma Watson / Source: Kevin Winter/Getty Images North America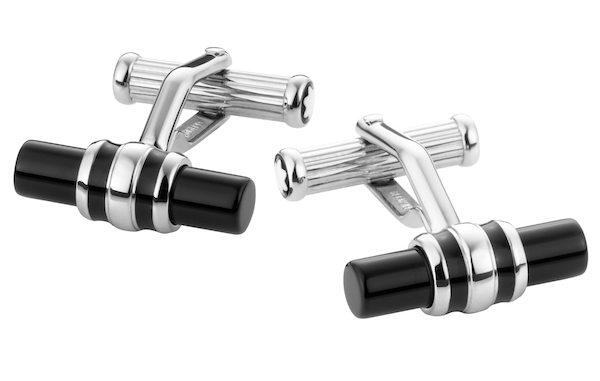 Montblanc cufflinks with platinum finish / Montblanc
I often preach that accessories maketh the man. Cufflinks do not go hidden or unnoticed under a suit. When I go for job interviews, I pick my favourite cufflinks: I gesture to drive the point further, and they see the hint of the cufflinks underneath. If it is a beautiful piece, it drills down further into their minds. Little details like that help stand out amongst the competition. What we say is important, how we look saying it, is just as. I don't know what Joseph Gordon-Levitt was saying above, but I know he looked damn fine saying it.
Here are nine of my favourite cufflinks at the moment, click for more information and to shop them online:
+