George Craig / Superdry
Superdry teamed up with the British Fashion Council to celebrate the start of London Collections: Men on Saturday 14 June 2014 by co-hosting an exclusive party on the eve of the three day fashion event. George Craig from British band 'One Night Only' attended the event and wore a gold tone jacket over a skull print t-shirt. He accessorised with a beautiful blue tone Amazon Fashion London² pocket square.
George Craig / Superdry
George Craig / Superdry
Here is a close up of George Craig's
London² pocket square. I love a good pocket square, and I think it is having a resurgence of late. Personally, I avoid wearing neck ties to socialising events. It is kind of restricting, and I much prefer adding a pocket square. It is more
nonchalant, but no less stylish. I thought George Craig's blue tone pocket square provided a nice contrast against the gold tone blazer.
What I find amazing, is the fabric, handicraft and price point. Read along...
Luke Evans / Esquire
Welsh actor Luke Evans attended the DKNY Men x Esquire party on 15 June 2014 as part of London Collections: Men. Luke Evans wore a black and white tone blazer from Giorgio Armani Spring Summer 2014, over a navy pullover. Love the laidback casual approach, but his look was really elevated with the addition of the gorgeous Amazon Fashion London² pocket square.
Giorgio Armani Spring Summer 2014
Perhaps Luke Evans was taking style inspiration from the runway picture above. Doesn't the little pocket square makes all that difference?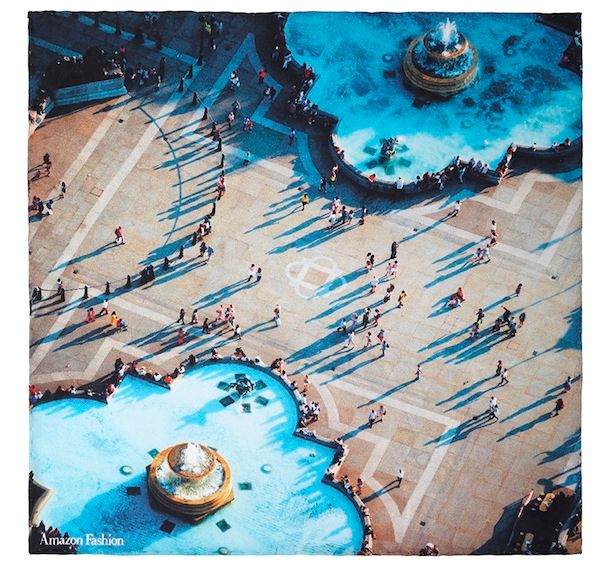 Both George Craig and Luke Evans wore the above Amazon Fashion
London² pocket squares during the past two days at London Collections: Men SS2015. The pocket squares are made from 100% silk, hand rolled individually, and feature aerial views of London by photographer Jason Hawkes. Shots include Trafalgar Square and Oxford Circus above, and two other shots which

you can explore from their online shop on Amazon.co.uk/London2

. The 30cm x 30cm silk squares retail for £25 each, which I thought was incredible.