I recently had the chance to road test the above watch from the new Drive from Citizen Eco-Drive collection. What I find interesting, is that the timepieces from this collection are fuelled by light and will never need batteries. The technology harnesses the power of light and converts it into energy which is stored in a permanently rechargeable lithium-ion cell. It recharges continuously in any kind of light to run forever. According to Citizen, once the timepiece is fully charged, it will keep running for six months, even in total darkness. Functionality wise, it forms a nice bridge between a quartz and automatic watch. The timekeeping is precise like a quartz watch, and while automatic timepieces are powered by kinetic movement, undoubtedly fancy and pricey, solar powered movement is the next best thing. England and solar are two words which probably do not go together, but cloudy days and even fluorescent lighting are enough to power the timepiece.
Aesthetic wise, the design is clean, simple and masculine. The 44.5mm steel case is paired with a trendy punched detail rubber strap. I don't have particularly big wrists but the watch nestled beautifully in proportion. The solar powered chronograph watch also featured a black dial with luminous accents, a date feature by the three o'clock corner, and finished with a stylish D signature on the crown. A very classic timepiece which would suit all ages really. I paired the monochrome watch with a black mohair sweater, faded black denims and matching silver tone eternity band ring. A simple styling but I love the different textures working together.
The side profile of the watch, featuring the D signature on the crown.
A beautiful watch which fuses innovative technology, comes with a five year guarantee and at an attractive price point £179. The watch I wore is from Drive from Citizen Eco-Drive, model no.: CA0420-07E. There are several other options within this collection, all harnessing the clever light charging properties. You can find out more about the timepieces at
http://www.citizenwatch.com/en-uk/
.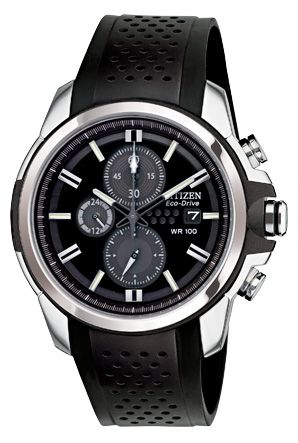 Drive from Citizen Eco-Drive, CA0420-07E