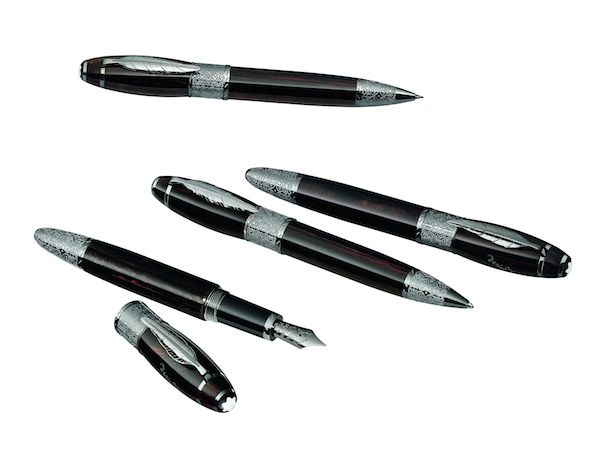 Montblanc Writers Edition: Daniel Defoe / Montblanc
We have gone a little cultural this weekend on the blog. Earlier we introduced
'Nevermore' by P.
 Frapin
 et
 Cie
, a fragrance in tribute to the famed poet Edgar Allan Poe, a scent inspired by one of his works, 'The Raven'. Now we turn our attention to the father of the English Novel and Creator of Robinson Crusoe: Mr Daniel Defoe. The Author of one of world literature's great epic novels and realistic fiction, Daniel Defoe has captured the imagination of generations with his colourful writing.
In tribute to the prolific novelist, Montblanc designed their 2014 Writers Edition pens based on Robinson Crusoe, Defoe's famous adventure story published in 1719 about a castaway who finds himself stranded on a tropical island. Every detail of the writing instrument recalls the story of this brave character lost at sea, as masterfully narrated by Defoe in his novel. The shape of the writing instrument is inspired by the wooden paddle that Crusoe relied on in vain to escape from the island on many occasions. Precious resin was used on the cap and barrel to achieve an effect that captures the complex texture and colour of wood, a material that symbolises Crusoe's life as a survivor on the remote island. Enhancing the appearance of the resin's polished surface, the cap ring and cone are adorned with fine engravings typical of the 18th century ornaments that decorated leather-bound book covers of the time, including the first-ever edition of the novel.
Perhaps one of my favourite details, is the elaborately decorated clip in the shape of a feather, reminiscent of Crusoe's most loyal companion on the island, the parrot Poll.
As with all of the previous Montblanc Writers Editions, the writing instruments are housed within a hardcover book.
Stunning isn't it?
Just how relevant is Robinson Crusoe to modern culture? Tom Hanks as an epic Cast Away in the film from the year 2000 was based loosely on Daniel Defoe's novel. Being an economics graduate, I should probably be able to explain the
Robinson Crusoe framework and model
at the back of my hand. That was of course eons ago, do give me some time to refresh?
Daniel Defoe was not just a great storyteller, but perhaps also pioneering in his times. We are all obsessed with making lists (well, I am), and are told to list down the pros and cons whenever we are faced with a difficult decision. Defoe's novel from 1719 documented Crusoe's Evil and Good list, which he did using pen, ink and paper salvaged from the shipwreck. Perhaps Crusoe did influence most of us today, to write down (or blog if you are from generation XYZ...) our emotions and reasonings when we are on our own.
Being a castaway on a remote island, Robinson Crusoe was surprising optimistic. His list above taught us to look at situations in a different light. That if we change our mindset, we can change the outcome. For now, let me go finish the book, and brush up on my Robinson Crusoe economics.
Montblanc Writers Edition: Daniel Defoe / Montblanc
The 2014 Montblanc Writers Edition: Daniel Defoe collection includes fountain, rollerball and ballpoint pens. You can find out more information online from
Montblanc.com
, or visit their new London flagship at 119 New Bond Street.
Shop Montblanc online from Mr Porter: