Christian Louboutin / Source: Larry Busacca/Getty Images North America | Rohit Bal / RohitBal.com
Christian Louboutin attended the Louis Vuitton Monogram celebration at Museum of Modern Art on 7th November 2014 in New York City. Christian Louboutin wore a gold and wine velvet sherwani / coat with all over embroidery from Rohit Bal.
Doesn't the celebrated shoe designer look gorgeous? Love the pairing of the traditional and aristocratic long coat from New Delhi based designer Rohit Bal, with modern elements like the bow tie, slim fitted trousers, and his 'Education' lace-up red soled shoes. The elaborate styling felt like a wedding outfit, and we could just about twist those words. It is a union between Louis Vuitton and Christian Louboutin, as the latter designed a special capsule collection as part of the Louis Vuitton Iconoclasts range.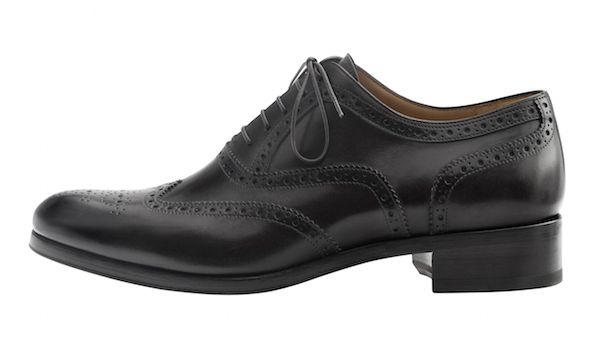 Christian Louboutin 'Education' lace-up leather shoes / Christian Louboutin
Frank Gehry, Karl Lagerfeld, Cindy Sherman, Christian Louboutin, Marc Newson / ph: Patrick Demarchelier
To mark the 160th anniversary of the house's founding, Louis Vuitton invited six of the world's design pioneers (the 'iconoclasts') to interpret the LV monogram (the 'icon') for a new series of bags. Architect Frank Gehry, Reverend Karl Lagerfeld, photographer Cindy Sherman, shoe maestro Christian Louboutin, designer Marc Newson and visionary extraordinaire Rei Kawakubo (not pictured above,
probably consumed by moths...
) form the six chosen ones.
Christian Louboutin ans Ashley Olsen / Source: Larry Busacca/Getty Images North America
Pictured above are Christian Louboutin and Ashley Olsen, with the Louis Vuitton Iconoclasts Christian Louboutin Shopping Bag. For his contributions to 'Celebrating Monogram,' Christian Louboutin achieved a rather amazing mind-meld of his own signature codes - red (of course), metal studs, feminine bows - with those of Monogram. His Shopping Bag conjures a vision of the mythical Parisienne, always chic and impeccably turned out, even while running errands. The tote pairs Monogram canvas with an eye-catching back panel of red calf hair, and retails for £2,910.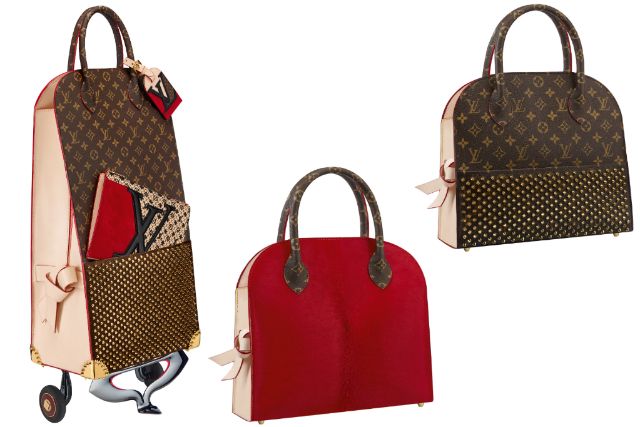 Disappointed that La Olsen did not attend the event with the Louis Vuitton Iconoclasts Christian Louboutin Shopping Trolley. The mind blowing market cart came with rounded Toron handles and red calf-hair back panel, with brass corners inspired by the Louis Vuitton house trunks and a pair of red soled metal Siamese ornament. I don't care about Chanel's supermarket basket, this trolley is exactly what I want this Christmas. Starting a JustGiving page soon for £14,100, please donate generously.
Shop Christian Louboutin online from Net-a-porter.com: