Lewis Hamilton / Source: Clive Mason/Getty Images Europe
Lewis Hamilton was pictured at the garage of the Abu Dhabi Formula One Grand Prix at Yas Marina Circuit on 23rd November 2014 in Abu Dhabi, United Arab Emirates. Besides the eye catching weighty chain necklace, I believe Lewis Hamilton wore the very much coveted Union x Buscemi 100mm sneakers.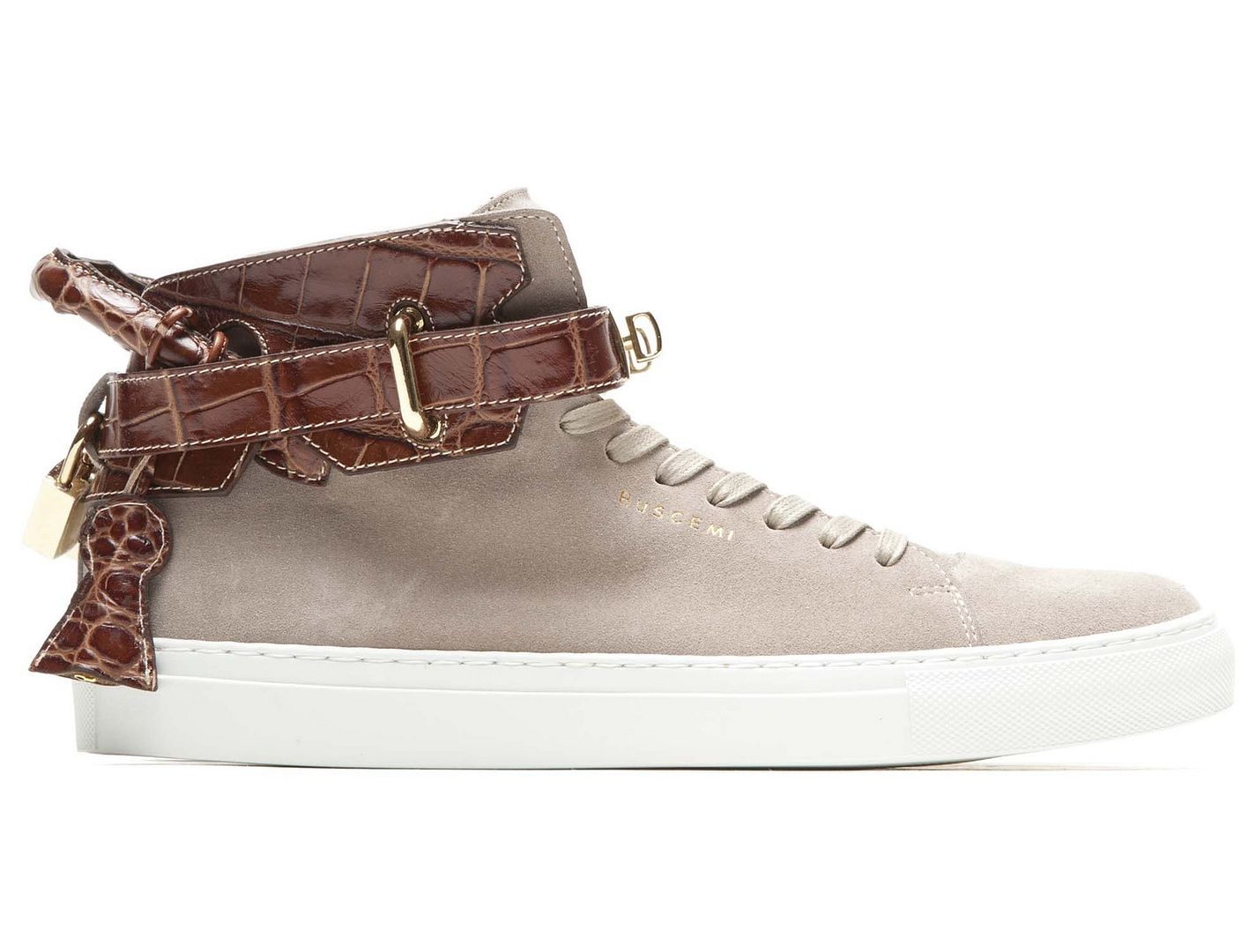 Cult sneakers brand Buscemi burst onto the scene a little while ago with their high end footwear with
Birkin
-like features. The above sneakers, which I believe Lewis Hamilton was pictured with, marks a special collaboration between Buscemi and Los Angeles based The Union. The Union x Buscemi sneakers come in suede with crocodile embossed accent. The shoes also feature 18k gold plated hardware, calfskin lining with Italian margam rubber cup sole, crocodile ankle strap with gold pass-throughs, a lock and keyhole shaped clochette. You can
shop the sneakers online from Farfetch.com
.
Stunning stunning sneakers, definitely one fit for an extraordinary winner.
Lewis Hamilton / source: Mark Thompson/Getty Images Europe
A few hours after leaving the F1 garage, an emotional Lewis Hamilton of Great Britain and Mercedes GP was pictured on the winners podium. The British Formula One racing driver won the World Championship and the Abu Dhabi Formula One Grand Prix at Yas Marina Circuit.
Lewis Hamilton / Source: Clive Mason/Getty Images Europe
Lewis Hamilton clinched his second drivers' world championship. The 2008 champion became the fourth Briton to win two world titles. Many congratulations! #Hammertime